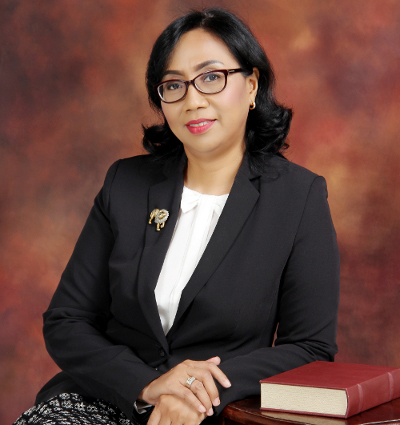 Practice Areas:
Dispute Resolution, Litigation, Arbitration, Maritime, Insurance, Finance, Capital Markets, Securities and Commodities, Labor, Family and Immigration.
Member of:
– Indonesian Advocates Union (Ikatan Advokat Indonesia – IKADIN)
– PERADI – Licensed of Indonesian Bar Association (PERADI)
– HKHPM – Licensed of Association of Capital Market Legal Consultants (HKHPM) No.200901
Publications:
Civil Law Procedure in Question and Answer (Hukum Acara Perdata dalam Tanya Jawab), Liberty, Yogyakarta: 2010
Experience and Notable Transactions:
Dyah is well known in the area of litigation and dispute resolution. Dyah has taken a prominent role in advising the Government of Indonesia along with certain ministers such as a former Governor of Bank Indonesia. Among others, she advised the Government of Indonesia on the establishment of IBRA and the draft regulation giving IBRA its powers. Dyah has also represented various Indonesian state banks in litigation matters including one high profile case involving the failure of payment of commercial paper. She also has represented state port companies and the Ministry of Forestry of the Republic of Indonesia in the Indonesian courts.
Dyah also advises foreign lenders with their disputes in Indonesia. She has represented foreign banks and investors in high profile bond disputes. She has advised Euroclear Bank S.A, Credit Suisse First Boston, Janus Capital Management LLC, Rothschild Asset Management (Singapore) Limited, Lehman Brothers Inc., AXA, Fortis Bank – Mees Piersen, Alliance Capital in complex financial litigation. She also represented lenders in connection with an action at the District Court of Central Jakarta against an Indonesian conglomerate for the failure to pay under its bonds.
Dyah has also represented lenders in debt restructurings involving Indonesian borrowers such as Barito Pacific. Dyah is also an expert on the Indonesian bankruptcy code and has represented debtors in connection with their employees and creditors.
Dyah also focuses on Indonesian labor law and has represented large financial institutions in disputes with their employees.
Dyah is active in Indonesia's commercial court representing both petitioners and defendants. She represented a state owned plantations company in a commercial court dispute.
Dyah also advises foreign companies in contractual disputes in the Indonesian Courts. For instance she has represented a large Japanese trading company as plaintiff in District Court of Central Jakarta.
Dyah is also active representing clients in the Administrative Courts of Jakarta including representing the Ministry of Forestry of the Republic of Indonesia regarding the claim from a holder of the right of Forestry exemption in the Administrative Courts of Jakarta.
Dyah is also an expert in Indonesian family and immigration Law and regularly handles such matters for foreign individuals on divorce, adoption, custody and other family matters.
Languages:
Indonesian, English
University Attended:
University of Trisakti, 1990, S.H.
University of Tujuh Belas Agustus, 2002, M.H. (LL.M. Equivalent)
2016, (Candidate Doctor).
Admission to the Bar:
1993, PERADI – Licensed of Indonesian Bar Association (PERADI)
E-mail:
dyustanti@depplaw.com